23-Time Grand Slam Champion, Serena Williams Announces Upcoming Retirement From Tennis
Serena Williams has announced her upcoming retirement from tennis as she admitted on Tuesday she is "evolving away" from the sport.
The 23-time Grand Slam singles champion made just her second appearance of the year this week as she defeated Nuria Parrizas at the National Bank Open in Toronto.
She admitted afterward she was "getting close to the light at the end of the tunnel" with regard to her remarkable career, before furthering that statement with a Vogue article in which she alluded to walking away.
"I have never liked the word retirement," Williams wrote in Vogue. "It doesn't feel like a modern word to me. I've been thinking of this as a transition but I want to be sensitive about how I use that word, which means something very specific and important to a community of people.
"Maybe the best word to describe what I'm up to is evolution. I'm here to tell you that I'm evolving away from tennis, toward other things that are important to me.
"I've been reluctant to admit that I have to move on from playing tennis. It's like a taboo topic. It comes up, and I start to cry. I think the only person I've really gone there with is my therapist."
Williams noted that she and her partner Alexis are trying for another child and that she did not want to be pregnant as an athlete again. In the piece, she recalls that she had been two months pregnant with her daughter Olympia when she won the Australian Open in 2017.
The 40-year-old was knocked out by Harmony Tan at Wimbledon in her first singles match for a year earlier this summer but has her sights set on the US Open in what could prove her farewell tournament.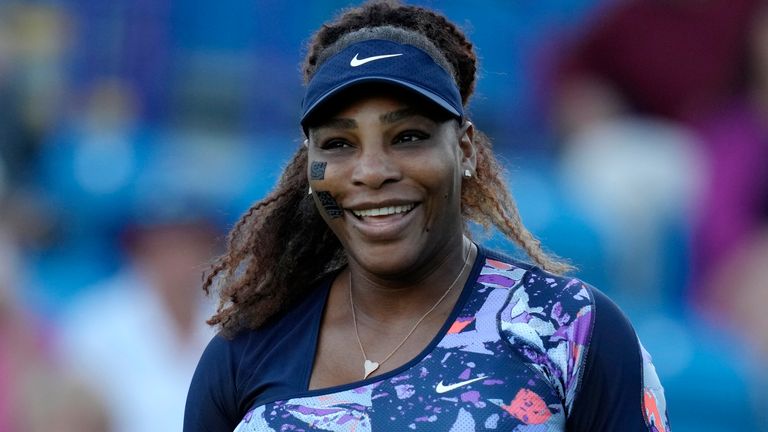 "Unfortunately I wasn't ready to win Wimbledon this year," she added in the article. "And I don't know if I will be ready to win New York. But I'm going to try. And the lead-up tournaments will be fun.
"I know there's a fan fantasy that I might have tied Margaret that day in London, then maybe beat her record in New York, and then at the trophy ceremony say, 'See ya!' I get that. It's a good fantasy. But I'm not looking for some ceremonial, final on-court moment. I'm terrible at goodbyes, the world's worst."
Williams' last Grand Slam title came in 2017 to take her tally to 23, leaving her one shy of a 24th that would bring her level with Margaret Court's record for most majors.
"There are people who say I'm not the GOAT (greatest of all time) because I didn't pass Court's record, which she achieved before the 'Open era' that began in 1968," Williams said.
"I'd be lying if I said I didn't want that record. Obviously, I do. But day to day, I'm really not thinking about her. If I'm in a Slam final, then yes, I'm thinking about that record. Maybe I thought about it too much, and that didn't help."
She underlined her imminent retirement by suggesting "the countdown has begun", noting that she was "relishing" what could be the final few weeks of her career.
Williams collected her maiden Grand Slam title at the US Open in 1999 when she defeated Martina Hingis just weeks before turning 18.
"I don't particularly like to think about my legacy. I get asked about it a lot, and I never know exactly what to say. But I'd like to think that thanks to the opportunities afforded to me, women athletes feel that they can be themselves on the court. They can play with aggression and pump their fists. They can be strong yet beautiful. They can wear what they want and say what they want and kick butt and be proud of it all."
Such was the dominance of the Williams family in the early 2000s that Serena met her sister Venus in eight of 13 Grand Slam singles finals from 2001 to 2009, with the pair also facing off in the 2017 Australian Open final in Melbourne.
Together the sisters transformed women's sport with their skill and supremacy alongside their influence as leading voices in the push for gender and racial equality.
In an interview with Sky Sports in December 2020, US male tennis player Frances Tiafoe explained how he grew up aspiring to follow in the footsteps of both.
"When I tell people in the neighborhood 'I'm a tennis player they're like 'oh so you're trying to do that Williams sister thing?'. They're a staple. You talk about tennis to a black person and it's the Williams sisters, that's just what it is. Just so big, they give so much confidence to so many guys," he said.
"What Venus did for women's sport, women's tennis, women's rights is unbelievable. Both of them have been great spokeswomen. I looked up to them and I still do. I'm a fan of them and I want to say thank you to them."
One of Serena Williams' most dominant periods arrived between 2012 and 2016 when she won eight of 16 Grand Slam singles appearances, as well as reached the final on two other occasions.
Credit: Sky Sports
NOVA Merchant Bank Uplifts 50 Young Lives Through Paediatric Surgical Intervention
NOVA Merchant Bank, a leading merchant bank in Nigeria, has sponsored a Pediatric Surgical Intervention, as part of its 2023 Environmental, Social and Governance (ESG) program, specifically within its UPLIFT initiative project.
This initiative, conducted in partnership with the Association of Paediatric Surgeons of Nigeria (APSON), positively impacted 50 indigent child patients at Lagos State University Teaching Hospital (LASUTH) on Monday, September 18, 2023.
APSON is the umbrella body of all Paediatric Surgeons in Nigeria engaged in the treatment of surgical issues in children, the education and training of specialists in Pediatric surgery, and the enhancement and preservation of the high standards and quality of surgical care provided to children.
This collaboration exemplifies NOVA's unwavering commitment to community development and its dedication to impacting lives through its UPLIFT Initiative projects aimed at creating "Today's solution for tomorrow's sustainability (UPLIFT)."
Speaking on the motivation behind NOVA's intervention, Mr Nath Ude, Managing Director of NOVA Merchant Bank, said, "NOVA envisions a future in which millions of people have free or low-cost access to healthcare and where unnecessary pain caused by preventable illnesses and untimely fatalities can be mitigated. This intervention is a stride towards achieving this vision." He added that, "No child should be deprived of their promising future due to a lack of healthcare accessibility" noting that the impact of this project will echo through lifetimes to come.
Emphasizing the pivotal role of NOVA's intervention, the President of APSON, Professor Roland Osuoji, said, "In the past year, Lagos state heavily subsidized paediatric operations for children between the ages 0-12 which have resulted in a growing waiting list, stretching until 2025." He added that, "This initiative not only reduces the backlog but also saves lives and offers hope to these deserving families.
Commenting on the patient selection process, Dr Omolara Williams, the Local Organizing Committee Chairman of the medical outreach, said, "We surveyed our group of patients from our database and pinpointed those who were on the waiting list due to financial constraints. We made every effort to contact as many of them as possible, and as a result, we now have patients ranging from 1 to 14 years old who will receive treatment for their pediatric conditions through this intervention." She further emphasized the need for continued regional and national initiatives like this to bridge the gap in paediatric surgical care accessibility.
Expressing appreciation for NOVA's intervention, the LASUTH Chief Medical Director (CMD), Prof Adetokunbo O. Fabamwo, said, "This collaboration reflects a shared vision of a healthier and brighter future for children in Nigeria." He noted that this meaningful impact is not just mending bodies but also building dreams.
NOVA Merchant Bank Limited is an investment grade-rated merchant bank in Nigeria, offering an integrated suite of financial solutions encompassing Financial Intermediation, Wholesale and Investment Banking, Asset and Securities Management, Trade Services, Cash Management, Transaction, and Digital Banking.
Vandals Destroy 108 Transmission Towers Across The Nation Between January 2022 To September 2023 — TCN
Federal Government Alleges Sabotage
A total of 108 power transmission towers were destroyed by vandals in various parts of the country between January 2022 and September this year.
This is according to the data obtained from the Transmission Company of Nigeria (TCN).
It was gathered that the vandals destroyed 132kV double circuit power transmission lines, 330kV double circuit lines, and carried out soil excavation that threatened transmission towers, as the Federal Government described the development as sabotage.
The vandalism of transmission towers occurred in the Abuja, Lagos, Kano, Enugu,  and Benin regions, though the government, through TCN, had contracted out the repairs of some of the vandalised towers.
It had also deployed in-house engineers of the transmission company to work on other vandalised towers.
An analysis of data from the transmission company showed that 27 towers were vandalised in the Abuja region during the review period, while nine towers were destroyed in the Lagos region.
The Kano region recorded the highest number of destroyed transmission towers, as 52 towers were vandalised in the region during the review period, while 10 towers were shattered in each of the regions of Enugu Benin.
Nigeria's power grid had collapsed twice in September, throwing the country into widespread blackout in both cases. The government and consumers blamed this on sabotage and destruction of transmission facilities.
TCN (in an information obtained by The Punch) said that in 2023 alone, it had recorded over 10 incidents of vandalism at different degrees across its regions, especially attacks on its transmission towers.
It stated, "In the Kano region of TCN, 49nos. towers were vandalised; Osogbo region, 51; Abuja region, 19; Enugu region, 18; among others. Nine towers, from Tower 56 to Tower 65 along the Papalanto/Abeokuta 132kV transmission line, located in the Obafemi Owode area of Ogun State, were all massively vandalised, leading to their collapse on May 23, 2023.
"As a result, Abeokuta and its environs were out of power supply for some days as the company had to supply bulk electricity through an alternate line, to enable Ibadan Disco (distribution company) to distribute electricity to its customers whose supply was affected by the incident.
"In the same vein, there were frequent activities of vandals in the TCN Aba sub-region in August 2023, with repair costs totalling about N23. They include 122No earthing copper conductors and 244No copper cable lugs with N366,000 worth of galvanised bolts and nuts carted away."
It added that at the Port Harcourt sub-region, some cases of vandalism included Owerri Ahoada 132kv DC Line (T199 – T211), IPP/Elelenwo 132kv DC Line (T40, T43, T52 and T53), Owerri/Ahoada 132kv Line (T203 – T217), Ahoada/Yenagoa 132kv Line (T19 – T31) and IPP/Elelenwo 132kv Line (T40).
"Uyo Work Centre has only one case of vandalism at Itu T/S where an underground cable connected to the generator was vandalised.
"The Benin region was not left out of the nefarious acts as vandals attacked towers 30 to 33 along the Ihovbor-Osogbo-Benin-Osogbo double circuit transmission line, cutting the legs of the four towers, but they did not collapse and therefore did not interrupt bulk power transmission on that line."
According to the TCN, on June 8, 2023, the linesmen of Benin region while patrolling the Benin/Ihovbor/ Osogbo 330kV double circuit line tower, discovered that Towers 30 to 34 were vandalised.
It stated, "The tower legs were sawed off and left to collapse, which could have been catastrophic, as it could have led to the loss of power supply and revenue and the probability of people getting electrocuted.
"The TCN management condemned the activities of these vandals, stating that their nefarious acts negatively impacted the grid expansion efforts of the company and are considered saboteurs. In addition, resources that would have been used to further improve the grid infrastructure would now be used to replace the vandalised towers.
"TCN is again appealing to host communities to join hands in the fight against vandals, admonishing them to report suspicious movement around transmission towers to security operatives or the TCN office in the vicinity."
Senate Screens Acting CBN Governor Dr. Cardoso, 4 Deputies Today
The  Senate will today (Tuesday) screen the acting Governor of the Central Bank of Nigeria, Dr Olayemi Cardoso, for confirmation into a substantive capacity alongside four nominees for the positions of CBN Deputy Governors, to steer affairs of the apex bank in the next five years.
The Red Chamber, which is returning from its two-month annual vacation, has also scheduled the screening of two additional ministerial nominees by  President Bola Tinubu for Tuesday, October 3, 2023.
The Media Office of the Senate Leader, Senator Opeyemi Bamidele, disclosed this in a statement on Monday evening.
While the National Assembly was on break, the President appointed the duo of Dr. Jamila Ibrahim and Ayodele Olawande as Minister of Youths and Minister of State for Youths respectively.
Tinubu also approved the nomination of  Cardoso as the new Governor of the Central Bank of Nigeria pending his confirmation by the Senate.
Last week, Cardoso resumed as the CBN governor in an acting capacity pending his screening and expected confirmation by the Senate.
The statement by the Senate Leader office said, "Dr. Cardoso will be screened alongside four deputy governors: namely Mrs. Emem Nnana Usoro, Mr. Muhammad Sani Abdullahi Dattijo, Mr. Philip Ikeazor, and Dr. Bala M. Bello.
"Besides, the Senate has scheduled to screen the ministerial nominees – Dr. Jamila Bio Ibrahim and Mr. Ayodele Olawande, respectively designated as Minister of Youth and Minister of State for Youth on October 3."
Meanwhile, the Senate also pledged not to disappoint Nigerians as regards the appropriation of the 2024 budget.
Speaking on the agenda of the Red Chamber ahead of its resumption, the Senate spokesperson, Yemi Adaramodu,  emphasised that the revitalisation of the economy was top of its priorities.
Adaramodu said, "Soon after the resumption, the appropriation process will commence.
"The 10th Senate will not disappoint Nigerians; we'd ensure that we do what is expected of us because we are in a peculiar time when all hands must be on deck and Nigerians are eagerly waiting to see us do the needful to save Nigeria from the economic troubles we are currently experiencing and that permanent solutions are proffered.
"We'd ensure that appropriations are targeted at deliverables that can enhance a good life and good living of Nigerians and we are going to ensure that those that are approved are delivered to the latter and that quality services are given to Nigerians so that we can realise the goals of the Nigerian project so that we can ensure that life is more abundant to everyone to Nigerians."
Adaramodu said the Senate expected the President to send the budget soon.
Credit: The Punch