Aside Westerhof, Bonfere Jo, Other Super Eagles Foreign Coaches Are Mechanics —- Dosu Joseph
Former Super Eagles goalkeeper Dosu Joseph has branded the past and present foreign coaches of the senior national teams as 'mechanics'.
In the last two decades, the Nigeria Football Federation has appointed eight foreign coaches – Clemens Westerhof, Johannes Bonfrere, Philippe Troussier, Bora Milutinovic, Thijs Libregts, Berti Vogts, Lars Lagerback, and Gernot Rohr to lead the team.
Only Westerhof led the team to an Africa Cup of Nations title in 1994, while Bonfrere and Rohr guided the team to a second and third-place finish respectively at the tournament.
The late Stephen Keshi, a Nigerian coach, guided the team to their third AFCON title in 2013, while the late Shuaibu Amodu led the team to a bronze medal finish in 2002 and 2010.
Local coaches Christian Chukwu and Augustine Eguavoen also led the team to an AFCON bronze medal finish in 2004 and 2006.
Atlanta 1996 Olympics gold medallist Dosu in an interview on PUNCH Online interview programme, Kick&Follow, where top personalities discuss topical issues in Nigerian football, said the local coaches had fared better than their foreign counterparts in the last two decades.
"The best foreign coach the NFF has appointed during my era was Clemens Westerhof and Johannes Bonfrere. After these two, the rest are all mechanics," Dosu said.
"Let's talk about the current coach (Gernot Rohr), he has been around for five years but what has he done?
"The late Stephen Keshi was in charge of the team for three years; he won the AFCON and led the team to a round of 16 at the 2014 World Cup in Brazil.
"They are not better than the local coaches. We are waiting to see when they will win the AFCON with the Eagles."
The Eagles, who currently lead their 2021 AFCON Group L with eight points, will travel to Porto Novo to face the Benin Republic on match-day five on March 27, before hosting Lesotho three days later at the Teslim Balogun Stadium in Lagos.
23-Time Grand Slam Champion, Serena Williams Announces Upcoming Retirement From Tennis
Serena Williams has announced her upcoming retirement from tennis as she admitted on Tuesday she is "evolving away" from the sport.
The 23-time Grand Slam singles champion made just her second appearance of the year this week as she defeated Nuria Parrizas at the National Bank Open in Toronto.
She admitted afterward she was "getting close to the light at the end of the tunnel" with regard to her remarkable career, before furthering that statement with a Vogue article in which she alluded to walking away.
"I have never liked the word retirement," Williams wrote in Vogue. "It doesn't feel like a modern word to me. I've been thinking of this as a transition but I want to be sensitive about how I use that word, which means something very specific and important to a community of people.
"Maybe the best word to describe what I'm up to is evolution. I'm here to tell you that I'm evolving away from tennis, toward other things that are important to me.
"I've been reluctant to admit that I have to move on from playing tennis. It's like a taboo topic. It comes up, and I start to cry. I think the only person I've really gone there with is my therapist."
Williams noted that she and her partner Alexis are trying for another child and that she did not want to be pregnant as an athlete again. In the piece, she recalls that she had been two months pregnant with her daughter Olympia when she won the Australian Open in 2017.
The 40-year-old was knocked out by Harmony Tan at Wimbledon in her first singles match for a year earlier this summer but has her sights set on the US Open in what could prove her farewell tournament.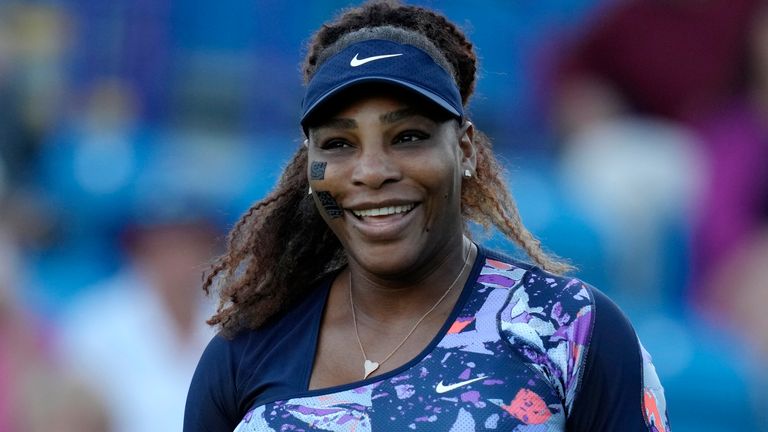 "Unfortunately I wasn't ready to win Wimbledon this year," she added in the article. "And I don't know if I will be ready to win New York. But I'm going to try. And the lead-up tournaments will be fun.
"I know there's a fan fantasy that I might have tied Margaret that day in London, then maybe beat her record in New York, and then at the trophy ceremony say, 'See ya!' I get that. It's a good fantasy. But I'm not looking for some ceremonial, final on-court moment. I'm terrible at goodbyes, the world's worst."
Williams' last Grand Slam title came in 2017 to take her tally to 23, leaving her one shy of a 24th that would bring her level with Margaret Court's record for most majors.
"There are people who say I'm not the GOAT (greatest of all time) because I didn't pass Court's record, which she achieved before the 'Open era' that began in 1968," Williams said.
"I'd be lying if I said I didn't want that record. Obviously, I do. But day to day, I'm really not thinking about her. If I'm in a Slam final, then yes, I'm thinking about that record. Maybe I thought about it too much, and that didn't help."
She underlined her imminent retirement by suggesting "the countdown has begun", noting that she was "relishing" what could be the final few weeks of her career.
Williams collected her maiden Grand Slam title at the US Open in 1999 when she defeated Martina Hingis just weeks before turning 18.
"I don't particularly like to think about my legacy. I get asked about it a lot, and I never know exactly what to say. But I'd like to think that thanks to the opportunities afforded to me, women athletes feel that they can be themselves on the court. They can play with aggression and pump their fists. They can be strong yet beautiful. They can wear what they want and say what they want and kick butt and be proud of it all."
Such was the dominance of the Williams family in the early 2000s that Serena met her sister Venus in eight of 13 Grand Slam singles finals from 2001 to 2009, with the pair also facing off in the 2017 Australian Open final in Melbourne.
Together the sisters transformed women's sport with their skill and supremacy alongside their influence as leading voices in the push for gender and racial equality.
In an interview with Sky Sports in December 2020, US male tennis player Frances Tiafoe explained how he grew up aspiring to follow in the footsteps of both.
"When I tell people in the neighborhood 'I'm a tennis player they're like 'oh so you're trying to do that Williams sister thing?'. They're a staple. You talk about tennis to a black person and it's the Williams sisters, that's just what it is. Just so big, they give so much confidence to so many guys," he said.
"What Venus did for women's sport, women's tennis, women's rights is unbelievable. Both of them have been great spokeswomen. I looked up to them and I still do. I'm a fan of them and I want to say thank you to them."
One of Serena Williams' most dominant periods arrived between 2012 and 2016 when she won eight of 16 Grand Slam singles appearances, as well as reached the final on two other occasions.
Credit: Sky Sports
Full List: Amusan, Brume – Nigeria's 35 Medalists At 2022 Commonwealth Games
It was a record-breaking outing for Team Nigeria at the 2022 Commonwealth Games (CWG) in Birmingham, as medals were raked in at an unprecedented rush while Nigerian athletes broke several records at the games.
Team Nigeria won 12 gold medals — the country's highest haul in the history of the CWG.
Incredibly, all the gold medals were won by female athletes who took the tracks and gymnasiums in Birmingham by storm and wrote their names in the annals of the competition.
Tobi Amusan surged to the finish line in 12.30 seconds in the final of the women's 100-meter hurdles to set a CWG record. Ese Brume registered a record-setting 7-meter leap in the long jump.
In the women's 4×100 meters, the quartet of Amusan, Favour Ofili, Rosemary Chukwuma, and Grace Nwokocha cruised to gold while setting a new African record with a time of 42.10 seconds.
Lifters like Adijat Olarinoye, Rafiatu Lawal, and Alice Oluwafemilayo also set new CWG records in their respective categories.
Nigeria finished the competition with 35 medals — 12 gold, 9 silver, and 14 bronze — to clinch seventh on the leaders' table as the final day of activities wraps up.
Athletics provided the most medals for Nigeria with 10 podium finishes, followed by wrestling with seven.
Below is the full list of all 35 medalists for Team Nigeria at the 2022 CWG:
GOLD MEDALISTS
Tobi Amusan — Women's 100m hurdles
Tobi Amusan, Favour Ofili, Rosemary Chukwuma, Grace Nwokocha, Joy Udo-Gabriel — Women's 4 x 100m relay
Ese Brume — Women's long jump
Odunayo Adekuoroye — Wrestling women's freestyle 57 kg
Blessing Oborududu — Wrestling women's freestyle 68 kg
Genesis Miesinnei Mercy — Wrestling women's freestyle 50 kg
Adijat Olarinoye — Weightlifting women's 55kg
Rafiatu Lawal — Weightlifting women's 59kg
Alice Oluwafemiayo — Para-powerlifting women's heavyweight
Chioma Onyekwere — Women's discus throw
Goodness Nwachukwu — Women's discus throw F42-44/61-64
Eucharia Iyiazi — Women's F55-57 shot put
SILVER MEDALISTS
Favour Ofili — Women's 200m
Elizabeth Oshoba — Women's featherweight boxing
Ikechukwu Obichukwu — Para-powerlifting men's heavyweight
Bose Omolayo — Para-powerlifting women's heavyweight
Ifechukwude Ikpeoyi — Para-table tennis women's singles classes 3-5
Nasiru Sule — Para-table tennis men's singles classes 3-5
Taiwo Liadi — Weightlifting women's 76kg
Hannah Reuben — Wrestling women's freestyle 76kg
Ebikewenimo Welson — Wrestling men's freestyle 57kg
BRONZE MEDALISTS
Udodi Onwuzurike, Seye Ogunlewe, Favour Ashe, Alaba Akintola, Raymond Ekevwo — Men's 4 x 100m relay
Ugochi Constance Alam — Women's F55-57 shot put
Obiageri Amaechi — Women's discus throw
Ifeanyi Onyekwere — Men's super heavyweight boxing
Jacinta Umunnake — Women's middleweight boxing
Cynthia Ogunsemilore — Women's lightweight boxing
Innocent Nnamdi — Para-powerlifting men's lightweight
Isau Ogunkunle — Para-table tennis men's singles classes 3-5
Faith Obazuaye — Para-table tennis women's singles classes 6-10
Mary Taiwo Osijo — Weightlifting women's 87kg
Islamiyat Yusuf — Weightlifting women's 64kg
Edidiong Umoafia — Weightlifting men's 67kg
Ogbonna John — Wrestling men's freestyle 74kg
Esther Kolawole — Wrestling women's freestyle 62kg
BREAKING: Ese Brume Wins Gold At CWG Women Long Jump, Sets New Record
World Silver medalist, Ese Brume wrote her name in the record book on Sunday, 7 August, 2022 not only winning Gold medal in the Women Long Jump event but also creating a new Commonwealth Games record.
Brume jumped a distance of 7.00 metres to win the event and retain the Gold medal she won in Gold Coast four years ago.
Australia Jumper won the Silver medal with a jump of 6.95 meters while Ghanaian jumper jumped 6.94 meters to win the Bronze medal.
Brume's teammate, Ruth Usoro jumped 6.56 meters to place sixth.
Brume's Gold medal was the 12th won by Nigeria at this year's Commonwealth Games, the best outing ever by Nigeria. It is instrucitve to note that all the 12 Gold medals were won by female athletes.