BREAKING: Armed Robbers Strike Again On Lagos-Ibadan Expressway Long Bridge [Video/Photos]
Motorists on the Long Bridge along Lagos-Ibadan Expressway on Wednesday cried for help as they reportedly ran into an armed gang.
The attack, which was backed by sporadic shooting by the armed robbers, led to serious confusion early on Wednesday.
Videos seen and voice notes heard by The Eagle Online indicated that they encountered the same on Tuesday.
In one of the videos, the narrator was heard saying: "This is the same thing that happened yesterday.
"You can see now that all of us are on standstill now.
"There is a robbery going on in the front.
"Can you hear gunshots now and there is no police presence?"
"lease we need help."
Motorists and passengers seen on the bridge appeared anxious while some were heard praying for safety.
The Ogun State Police Command had on Tuesday reacted to the development.
The Command's spokesman, Abimbola Oyeyemi, denied that anyone was kidnapped, saying it was fake news.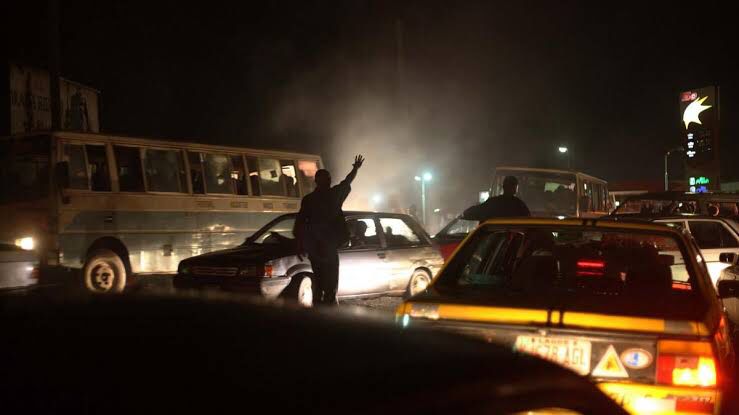 Project Lead Africa Announces 2022 Leadership Excellence And Dignity Awards, Tagged "Rewarding Tenacity"
Organizers of Leadership Excellence And Dignity Awards have annouced November 13th for the 2022 maiden edition of Lead Awards. It was also revealed that the prestigious event will hold at the Dome International Conference Center, Akure, Ondo State.

Addressing a cross section of journalists over the weekend in Lagos, the Executive Director, Abiola Alaba Peters AAP, said the evening promises to be a gathering of captains of industries, government officials and prominent traditional rulers as far as Ondo State is concerned.

"It is our pleasure to announce to the general public, particularly the good people of Ondo State, that all is set for the 2022 Leadership Excellence And Dignity Awards. This announcement was necessary after several months of consultation and planning, the event will be live at the Dome International Conference Center, in Ondo State capital, Akure"

"The date is November 13th 2022, It's going to be a cooperate night, an evening of glitz and glamour, we have put in so much into making this maiden edition a memorable one. And that is why we have also taking time to design the concept of the theme of this year ceremony, REWARDING TENACITY. We believe it's time to celebrate the individuals and organizations who have put in their best in making our dear state what it is today"

"It's promises to be a gathering of some of the biggest names in Ondo State, from politics, business, entertainment, among others, our traditional rulers are not going to be left out, we are also expecting guests from neighboring states. Alaba Peters concluded.

Giving further details on the event, the Media and Publicity Director, Adewoye Solomon, said although activities, such as nominations and voting has kicked off since January, the award ceremony will hold on a Sunday in the month of November 2022.

In his words, "Let me start by saying that, the process and activities for the award started in January this year, the award presentation will hold in Akure, on a Sunday, the second week of November 2022. Let me also add that, two months ago, we closed the voting process. We have about 25 categories of awards, which includes the special recognition category".

"A total of 15 categories will be decided by general public, while the remaining 10 will be decided based on the panels' decision. We received a good number of quality entries from across the state for this debut edition. We have our final shortlists of winners, which we are confident embody the excellence the awards stand for."

Lastly, let me also add that, this is a strictly by Invitation event. We are introducing an electronic invites by next month. We also have some top celebrities coming in from Lagos. We will make some major announcement in the month of October, do well to follow us on all our social media pages for updates. Thank You "
JUST IN: FG Makes U-Turn, Withdraws Order To Reopen Varsities
The Federal Government, through the National Universities Commission, Monday afternoon, withdrew its circular which ordered vice-chancellors, pro-chancellors, and governing councils to re-open federal universities.
It was reported earlier that a circular tagged NUC/ES/138/Vol.64/135 was addressed to all vice-chancellors; pro-chancellors and chairmen of governing councils of federal universities ordering them to re-open universities.
But in another circular tagged NUC/ES/138/Vol.64/136, which the Director, Finance also signed, and Account of the NUC, Sam Onazi, the commission withdrew the order.
Though it did not explain why. The letter tagged, "withdrawal of circular NUC/ES/138/Vol.64/135 dated September 23, 2022" partly read, "I have been directed to withdraw the NUC Circular Ref: NUC/ES/138/Vol.64/135, and dated September 23, 2022, on the above
subject.
"Consequently, the said circular stands withdrawn. All pro-chancellors, chairmen of governing councils, and vice-chancellors of federal universities are to please note. Further development and information would be communicated to all relevant stakeholders.
"Please accept the assurances of the Executive Secretary's warmest regards"
Retired Soldiers Stage Protest In Abuja Over Pay Discrepancies [PHOTOS]
Some retired soldiers on Monday in Abuja protested salary and pension gaps among the ranks of serving and retired military personnel.
The protesters were seen with mats and banners demanding that the federal government rectify the discrepancies.
One of the banners they carried, said, "Review the wide disparity in pay and pension across the ranks of servicing and retired personnel"